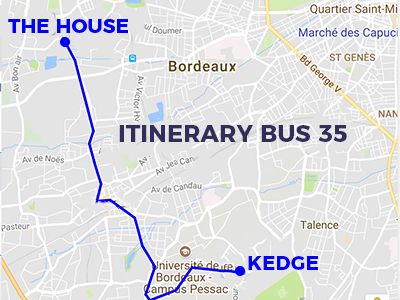 Welcome to Kedge Business School students!
The perfect spot to Kedge students
The bus station which takes you to BORDEAUX KEDGE Business School is just one minute walking from the house. The bus is called "Corol 35" and it goes to Kedge in 20 minutes. It is a direct bus to the campus so you can reach your school easily. That is very convenient and most of French students use it.
Near all commodities
Supermarket, Entertainment, Pizzeria, Library, Bars... Everything is close to the house! There is also the tramway station "Pierre Mendes France" at 1 minute walking from the house.
Kelly Testimonial Kedge 2018

"This home is an excellent choice for anybody considering staying in Bordeaux. I had a very pleasant stay. Your hospitality is quite outstanding! This is indeed a place you do not want to leave, and when you do it is with one hope - to come back. I recommend this place to anybody enquiring!" Kelly W.
Meena Testimonial Kedge 2017

"A truly unique student living experience. I was searching through many websites to no avail, I came across Homestay-Bordeaux, it was surely the best thing I could have found. The room was furnished to a very high standard with easy access to the school. I will surely recommend this place to other students." Meena W.
Julian Testimonial Kedge 2015

"So hard to find an accommodation in Bordeaux! The French love paperwork and agencies require documentation that you can't have. I contacted over 100 places, found success through Vanessa's house. The room is spacious and comes with a large desk which makes it easier to study. I would definitely recommend this accommodation to any students. " Julian M.